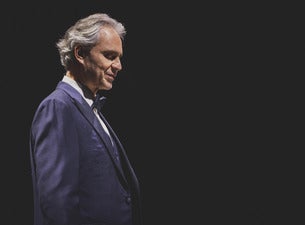 Classical
Andrea Bocelli Tickets
Events
Italy
There are no upcoming events in Italy
Don't worry, there are other events available below
International Events
4 Events
8/24/23

Vaduz, Liechtenstein

Parkhaus Marktplatz

Andrea Bocelli – Eröffnungskonzert Open Air

10/19/23

Berlin, Germany

Mercedes-Benz Arena

Andrea Bocelli | Box seat in the Ticketmaster Suite

1/13/24

Praha 9, Czech Republic

O2 arena

Andrea Bocelli - The world´s most beloved tenor

1/13/24

Praha 9, Czech Republic

Parking Garage - O2 arena

Parking ticket - Andrea Bocelli
About
Andrea Bocelli is one of the most important Italian artists worldwide.

Andrea Bocelli, who showed an early talent for classical music, became famous in 1993 by duetting on Miserere with Zucchero, who penned the song Il mare calmo della sera with which Bocelli won among the Nuove Proposte contest at Sanremo Music Festival in 1994.

Among the most renowned and beloved singers of international pop music, the tenor has performed at the Olympics and the World Cup and has worked with Luciano Pavarotti, Ariana Grande, Jennifer Lopez, Christina Aguilera, Ed Sheeran, Dua Lipa, Céline Dion, Tony Bennett and Lady Gaga, among others.

Bocelli has won a Golden Globe, seven Classical BRITs and seven World Music Awards and also has a star on the Hollywood Walk of Fame. The Tuscan singer's previous pop album, Sì, was nominated for Best Traditional Pop Vocal Album at the Grammy Awards 2019 and ranked #1 on the US and UK Album charts.

After the release of his new album Believe, Andrea Bocelli held the Christmas concert Believe In Christmas, which was livestreamed all over the world from Teatro Regio di Parma on December 12 2020.

On June 2021 Bocelli performed at the opening ceremony of the European Football Championship at the Olympic Stadium of Rome with the song Nessun Dorma of Puccini.