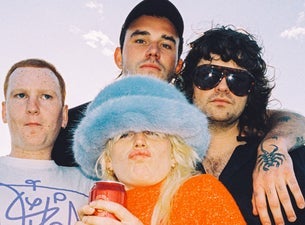 Rock/Pop
Amyl and the Sniffers Tickets
Events
Sorry... there are currently no upcoming events.
About
Amyl and The Sniffers are Amy Taylor (voice), Gus Romer (bass) Bryce Wilson (drums) and Declan Martens (guitar). The band debuted in 2016 with the EP Giddy Up, written and recorded in just twelve hours. Giddy Up was followed by the homonymous first album of the band Amyl and The Sniffers released in 2019 and produced by Ross Orton from Add N To (X). The album received an ARIA Award for Best Rock Album and was nominated at Australian Music Prize in 2019.

Amyl and The Sniffers released their second album Comfort To Me on October 2021, preceded by the songs Guided by Angels, Security and Hertz. The album has raw but finished sound, a rare work where energy and production live together without fighting each other.

Among Amyl and The Sniffers' main influences we can recall Minor Threat, Ceremony, AC/DC, Sleaford Mods, Dolly Parton and Cardi B.

You can't miss the Italian show of Amyl and The Sniffers, buy immediately the official tickets.