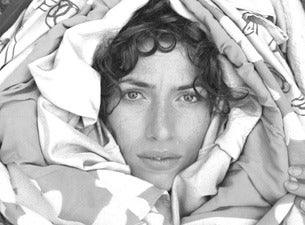 Folk/Country
Aldous Harding Tickets
Events
4/2/23

Milan

Santeria Toscana 31

Aldous Harding
International Events
6 Events
3/21/23

Brussels, Belgium

Cirque Royal - Koninklijk Circus

Aldous Harding

3/24/23

Groningen, Netherlands

SPOT / De Oosterpoort

Aldous Harding

4/4/23

Praha 3, Czech Republic

Palác Akropolis

Aldous Harding, support: H. Hawkline

4/5/23

Warsaw, Poland

Niebo

Aldous Harding, support: H. Hawkline

4/7/23

Berlin, Germany

Admiralspalast

Aldous Harding

4/11/23

OSLO, Norway

Sentrum Scene

Aldous Harding
About
The concert of Aldous Harding previously scheduled for March 14 2022 at Santeria Toscana 31 has been rescheduled for April 2 2023 at the same venue. If you have already bought the tickets, these will be valid for the new show.


Aldous Harding is back in Italy for a unique show on April 2 2023 at Santeria Toscana 31 in Milan.

Aldous Harding is a folk songwriter from New Zealand. Discovered as she was performing on the streets of Lyttelton, Aldous Harding has managed to impress some of the most prominent personalities of the music industry all over the world.

In 2016 Aldous released her debut album Aldous Harding. The record was rated 4 stars by the music magazines Mojo and Uncut.

In May 2017, Aldous Harding released via the independent label 4AD (The National, Big Thief, Dry Cleaning) the record Party, containing the singles Horizon and Imagining My Man with the collaboration of Perfume Genius. The release of the record was followed by a tour with 100 dates that has brought the songwriter on the most important European stages.

Two years after the previous work, Aldous Harding released on April 26 2019 her third studio album Designer, whose lead single The Barrell won the APRA Silver Scroll Award. The record was produced with the collaboration of Huw Evans (H. Hawkline), Stephen Black (Sweet Baboo), the drummer Gwion Llewelyn and the violinist Clare Mactaggart, who helped Aldous Harding's timeless songwriting stand out even more.

You can't miss the only Italian show of the Kiwi songwriter!