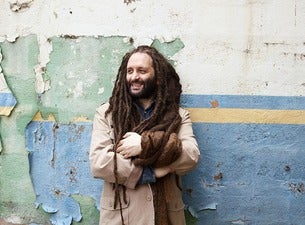 About
Alborosie, stage name of Alberto D'Ascola, approached reggae music in 1992 thanks to artists like Bob Marley, Peter Tosh, Burning Spear and Culture. The following year the artist joined the reggae band from Bergamo Reggae National Tickets with the stage name of Stena. The band has sold more than 200,000 copies and won the Italian Reggae Ambassador award at Rototom Sunsplash.

In the first years of 2000 the artist moved to Jamaica to approach the local culture and changed his stage name to Alborosie. In 2008 the musician debuted as solo artist with Soul Pirate achieved the fame and the respect of the reggae music scene of Kingston.

After 20 years of career, Alborosie has become one of the main exponents of reggae in Italy where he has collaborated with artists like Fabri Fibra for Un'Altra Chance of 2007, Caparezza for Legalize the Premier in 2011, Tiromancino with Se Mi Verrai a Cercare of 2018 and Guè Pequeno for Dem Fake from the multi-awarded record Mr. Fini.