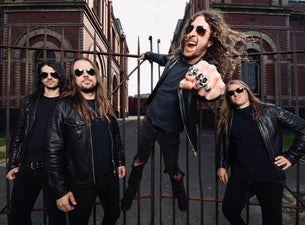 Hard Rock/Metal
Airbourne Tickets
Events
Sorry... there are currently no upcoming events.
About
Airbourne is an Australian hard rock band founded in 2003 in Warrnambool, Victoria. The band consists of Joel O'Keeffe (vocals and guitar), Ryan O'Keeffe (drums), Matthew Harrison (guitar) and Justin Street (bass).

Joel and Ryan O'Keeffe are brothers and sons of musician Ross Wilson, leader of Daddy Cool and Mondo Rock. The O'Keeffe brothers have developed their love of music since childhood, and Joel began playing guitar at age 11.

After moving to Melbourne to try their luck, Airbourne signed a recording contract with Capitol Records in 2006 and released their debut album, Runnin' Wild, in 2007. The album had great success and reached the top 30 of the charts in Australia and several other countries.

Airbourne continued to release successful albums, including No Guts. No Glory. (2010) , Black Dog Barking (2013) and Breakin' Outta Hell (2016). Their music is influenced by 70s and 80s rock classics, such as AC/DC, Thin Lizzy and Judas Priest, and features powerful guitar riffs and energetic rhythms.