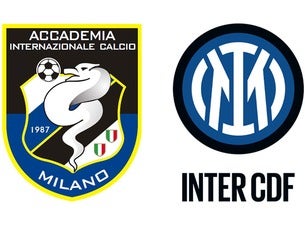 Soccer
Accademia Internazionale Calcio Tickets
Events
We're sorry, but we couldn't find any events
About
Find out all the upcoming games
HERE
.
Accademia Internazionale Calcio
is a Milan-based sports association dedicated to amateur youth soccer.
F.C. Internazionale has been affiliated with the Academy since its foundation in 1967
: initially, Accademia Internazionale Calcio was the Ivanoe Fraizzoli soccer school, then it became Inter Campus and today it is a Specialized Training Center.
The founder of the Accademia Internazionale Calcio was
Amedeo Messerotti
, whose successor is the current President Marco Messerotti. A reality that over the years has reached great sporting achievements and has trained athletes who still play in professional leagues.
Accademia Internazionale Calcio has a remarkable palmares
: among others, two national championships, six regional championships and three Lombardy Cups. All of this is made possible by qualified technicians and managers and by a modern sports structure with numerous playing fields in artificial grass of the latest generation.
The project of the Accademia Internazionale Calcio is a model of organizational excellence aimed at amateur youth soccer, based on the conviction that through the practice of football, young people can improve themselves and grow in sport.
Don't miss the best matches of Accademia Inter!