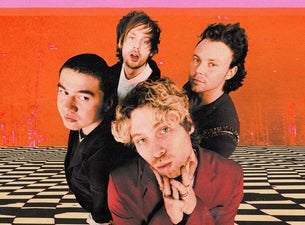 Rock/Pop
Biglietti per 5 Seconds of Summer
Eventi
26/09/23

Assago

Mediolanum Forum

The 5 Seconds of Summer Show World Tour 2023

Luogo dell'evento

Mediolanum Forum

26/09/23

Assago

Mediolanum Forum

The 5 Seconds of Summer Show World Tour 2023 - Soundcheck Experience Upgrade

Luogo dell'evento

Mediolanum Forum
Eventi internazionali
21 eventi
24/09/23

Madrid, Spagna

Palacio Vistalegre

5 Seconds of Summer

24/09/23

Madrid, Spagna

Palacio Vistalegre

5 Seconds of Summer - Ultimate Friends of Friends VIP L.P + S.E

24/09/23

Madrid, Spagna

Palacio Vistalegre

5 Seconds of Summer | Soundcheck Experience Package (Seated)

24/09/23

Madrid, Spagna

Palacio Vistalegre

5 Seconds of Summer | Soundcheck Experience Package (Standing)

24/09/23

Madrid, Spagna

Palacio Vistalegre

5 Seconds of Summer | Soundcheck Experience Upgrade-No incluye entrada

27/09/23

Stuttgart, Germania

Porsche Arena

5 Seconds of Summer

27/09/23

Stuttgart, Germania

Porsche Arena

5 Seconds of Summer | Soundcheck Experience Package

27/09/23

Stuttgart, Germania

Porsche Arena

5 Seconds of Summer | Soundcheck Experience UPGRADE (kein Ticket)

27/09/23

Stuttgart, Germania

Porsche Arena

5 Seconds of Summer | Ultimate Friends VIP Lounge + Soundcheck

28/09/23

Düsseldorf, Germania

Mitsubishi Electric HALLE

5 Seconds of Summer

28/09/23

Düsseldorf, Germania

Mitsubishi Electric HALLE

5 Seconds of Summer | Soundcheck Experience Package

28/09/23

Düsseldorf, Germania

Mitsubishi Electric HALLE

5 Seconds of Summer | Soundcheck Experience UPGRADE (kein Ticket)

28/09/23

Düsseldorf, Germania

Mitsubishi Electric HALLE

5 Seconds of Summer | Ultimate Friends VIP Lounge + Soundcheck

30/09/23

Brussels, Belgio

ING ARENA

5 Seconds of Summer

01/10/23

Amsterdam, Paesi Bassi

Ziggo Dome

5 Seconds of Summer - The 5 Seconds of Summer Show

01/10/23

Amsterdam, Paesi Bassi

Ziggo Dome

5 Seconds of Summer | Soundcheck Experience Package (Seated)

01/10/23

Amsterdam, Paesi Bassi

Ziggo Dome

5 Seconds of Summer | Soundcheck Experience Package (Standing)

01/10/23

Amsterdam, Paesi Bassi

Ziggo Dome

5 Seconds of Summer | Soundcheck Experience Upgrade
Informazioni
I 5 Seconds Of Summer sono la band pop rock formatasi a Sydney nel 2011. Luke Hemmings, Michael Clifford, Calum Hood e Ashton Irwin sono quattro ragazzi talentuosi che sono passati da caricare video di cover su YouTube a scalare le vette delle classifiche mondiali con il singolo d'esordio She Looks So Perfect.

Youngblood è stato anticipato dai singoli Want You Back, Youngblood, Valentine and Lie to Me.

Il nuovo album dei 5 Seconds Of Summer CALM è uscito il 27 marzo 2020 ed è stato anticipato dai singoli Easier, Teeth, No Shame e Old Me. Easier ha totalizzato oltre 140 milioni di stream su Spotify e più di 37 milioni di visualizzazioni su YouTube. Teeth, parte della colonna sonora della terza stagione di 13 Reasons Why, vede alla chitarra il leggendario chitarrista Tom Morello dei Rage Against The Machine e la produzione di Ryan Tedder, frontman dei OneRepublic.

Il sound dei 5SOS mescola il punk degli anni Novanta e il pop delle boy band dei primi anni Duemila, citando come fonti di ispirazione i gruppi Green Day, All Time Low, blink-182 e Boys Like Girls.

Non perdere la carismatica band che ha portato una grande energia punk nel mondo del pop!